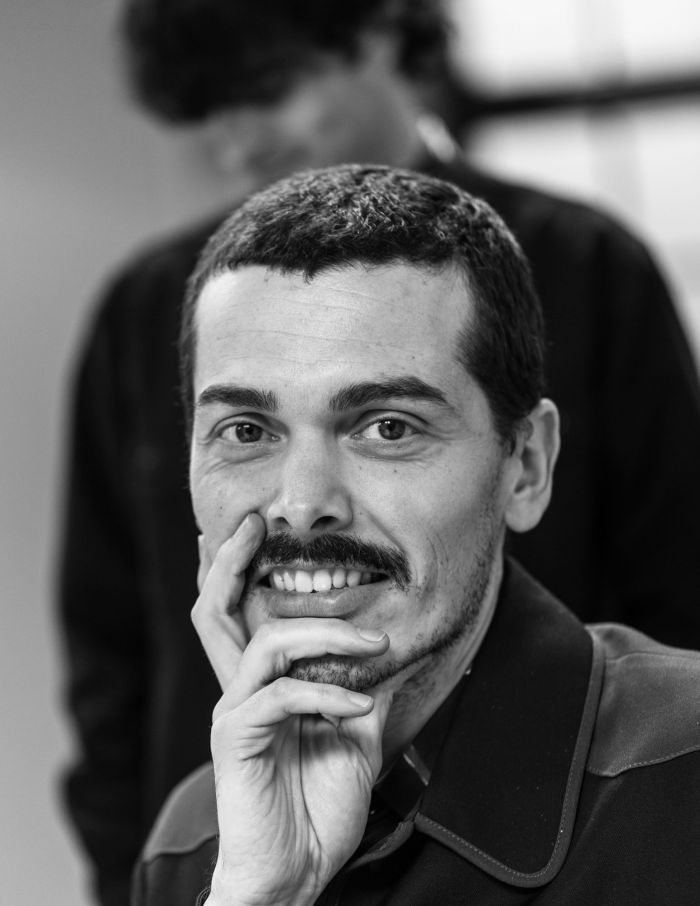 If there was such a thing as ideological blood groups in the design world, studio Formafantasma would be in the 'political designers' category.
'Gender, immigration and environment are especially interesting subjects to us,' confesses Simone Farresin, the driving force behind Formafantasma with Andrea Trimarchi. 'We're always looking for a discussion, even for commissions. For example, in our designs for Fendi we used fish skin to denounce the use of exotic animals in the fashion industry. Nowadays, as a designer, you're actually more involved in systems and processes than with products.' Farresin always knew he wanted to be a designer. 'As a teenager, I was a real design geek,' he admits. 'My dad owned a farm, so it's not genetic. But we lived in north-east Italy, an area with a lot of manufacturing industry. I got interested in historical design early on, especially the radical works from the 1960s and 1970s. In high school I had a teacher who once came back from a visit to the Salone del Mobile, where he'd seen a presentation by Droog Design. He told us about those crazy Dutch people and I instantly knew: this is my generation, they speak my language.'
The FormaFantasma Foundation installation at Spazio Krizia, Salone 2017
Critical Friction
When the time to choose a place for further education came, Milan, the epicentre of prospering postmodernism at the time, was not on his list of choices. 'With the exception of Ettore Sottsass's work, I think Italian design from that period was commercial and shallow.' But Florence, where he decided to go, wasn't that great either. 'The glory days were over and the teaching style was pretty academic and conservative.' He was ready to drop the profession entirely when Andrea Trimarchi entered his life. The young Sicilian moved in with Farresin. They travelled, discussed, researched and lived together. 'That reopened my eyes to the world, a place where we live with objects.' They spent a lot of time in Trimarchi's home country. And as such, Sicily features a lot in their early works, in the form of lava from Mount Etna and local production methods. 'Being from northern Italy, Sicily was as weird and far away to me as it is to a Dutchman. But I was instantly fascinated. It's really in the backwoods: there's almost no industry, things are still made in traditional ways, life is simple and unrefined. And don't forget that the island also has to deal with a flood of migrants from North Africa. This causes tension with the local citizens, who are poor themselves. I'm attracted to places like that, where the strain is visible, where the critical friction is palpable.' In 2007, the duo applied to the Design Academy Eindhoven. With one portfolio. 'That was very unusual. Some teachers didn't like it, but Gijs Bakker supported us. We hadn't even thought about it, honestly. Cooperation felt natural. Where we're from, and especially in Florence during the 1970s, collectives were often the modus operandi.'
The FormaFantasma for Lexus presentation at Salone 2016
No Party Animals
An 'organic dialogue' or 'permanent game of Ping-Pong'. That's how Farresin describes them. 'Of course, we have our different roles. I can completely lose myself in a subject and endlessly discuss things. Andrea is much more focused. He makes the decisions. But we're actually two parts of one designer.' After graduating, they traded Eindhoven for Amsterdam. The former stone factory the duo now inhabits, functions as both studio and living space. They live surrounded by their work, day and night. In spite of that – or perhaps because of it – they adhere to strict working hours. 'We start early and finish at night at around seven. Then our private time starts, we fill this time with cooking, reading and watching series. We're not party animals, we're quite disciplined. But this way we can afford to take a month off during the summer. Just like in Italy, where everything closes in August, it's our aim to not have to work during that month. Then when you start working again, you're completely refreshed.' That method has proven itself very efficient. In five years, the studio managed to complete no less than 14 projects. That includes free work in collaboration with museums and galleries, but also commercial commissions. 'Every assignment starts with the question: "What does the client want, and who is he?" Our work focuses on research, but we translate it into objects. Instead of the modernistic "form follows function", we operate on the premise of "form follows context". That's also what our name represents: forms of the mind.'
'a permanent game of Ping-Pong' Simone Farresin describes how he and Andrea Trimarchi work together.
Detail of FormaFantasma's Amsterdam Studio
Layering
Sometimes the freedom of that mind is constrained. Like the project Formafantasma did for Lexus. 'Well, the car industry . . .' Farresin sighs. 'It's very hard to convince brands not to tell some crazy story – that only works in fashion – but to just show what they do. We wanted to show the factual ingredients needed for the production of their car and its revolutionary hydrogen engine: a block of aluminium, some gold, leather and plastic. But they didn't agree. At the very least, they wanted the form of the car to be referenced. We solved that problem by using a frame with thousands of coloured strings that outline the car's contours. The installation was also related to the early Japanese textile industry, the precursor to the companies that now deliver highly technical products, like hydrogen engines.' That layering is typical of Formafantasma's work. Farresin feels that Botanica (2011) was the most successful, a research project about plastics made from plant and animal matter. 'The research was the objective, but the translation of our findings was very interesting. The pots and bowls we made are weird. Even we were surprised. And that's super exciting: to arrive at a conclusion you couldn't have predicted beforehand. Botanica was the first project that gave us that feeling with such intensity. It's been our goal in every project since.'
The Botanica project, 2011
---
This interview was published in WOTH issue No4 (april 2017) in the recent issue No5 there is a piece about FormaFantasma's Salone presentation. Both issues are still available in english via Bruil & van der Staaij. Or get a subscription here! Dutch versions of WOTH you can order in our shop and an NL subscription is available here.