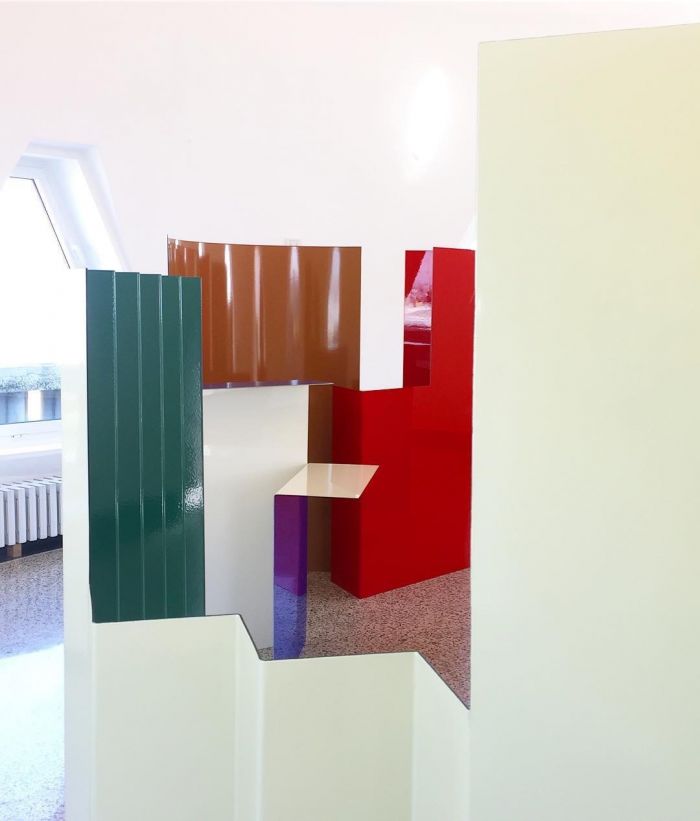 Fireworks at Salone 2017 by marvellous Muller Van Severen
Marvellous Muller Van Severen surprised us at this Salone with a very special presentation named 'Fireworks'. On the top floor of the Art Deco building nicknamed The Kremlin they showed their latest work – five folding screens for the Massimo De Carlo gallery – in a kind of round observatory overlooking the whole of Milan.
Before the two began their collaboration Fien Muller was a photographer and Hannes Van Severen (son of designer Maarten Van Severen) an artist. Together they create furniture-like objects in beautiful shapes and the most wonderful colour combinations, something for which Muller Van Severen seems to have an eye. The objects are made from paper-thin enamelled steel, which makes the colours look even more saturated, and have the thin black rims that come with enamelling. In a single word: fantastic. This is actually the best thing about the Milan Design Week: you get to visit places nobody gets to visit and to experience the most amazing presentations. Magical!
Fien Muller in emerald green and Hannes Van Severen at the opening drinks of their fabulous show.
Muller Van Severen are featured in WOTH issue No5 in stores now! Or order your international copy here. Issue No5 is full of Wonderful Things we spoted at the Salone del Mobile in Milano last April. mullervanseveren.be