Laurence is wearing a dress by Danish designer Henrik Vibskov. She designed the sandals herself; earrings Lara Frankl.
MOROCCO
Freshness and color characterize her optimistic
creations. 'The best thing about my life here, is working
with the local craftsmen' says emigré Laurence Leenaert. Her pink home crammed with ceramics, paintings, mirrors, carpets: all made in Marrakech.
The table, made by Laurence, is covered with her own drawings. On it a cheerful collection of her own ceramics. A local ceramist makes them - in consultation with Laurence - and she paints them.
When textile designer Laurence Leenaert was twenty-five, she decided to swap her hometown Ghent in Belgium for Marrakech, Morocco. 'The proces took some time of course'. Laurence first fell in love with the North African city during a long, two-month vacation. She enjoyed so much being there her travel companion asked 'So why don't you pack your things and live here?' The question began to obsess her until finally she decided to grab the bull by the horns and follow her heart. Not much later she finally left for Marrakech with € 400 of savings in her pocket and a sewing machine as extra luggage. 'That was three years ago in 2016. After my studies at the Royal School of Arts in Ghent, I first did an internship at the fashion house Bless in Berlin, an incredibly educational experience which introduced me to real production. I began fantasizing about my own label in the same honest way Bless did business. While in Ghent I somehow lacked a creative vibe, that changed immediately after my decision to move to Marrakech. Suddenly I was constantly painting and designing, as if I had finally found some sort of peace or freedom. It all went very naturally.' Initially she intended to focus on making bags, but soon realized that there were many more possibilities open to her in Marrakech. Leenaert: 'This is a city where everything is possible in terms of artisanal creativity. In the Medina, the old part of town, you will always find someone who can make something for you, whether it is ceramic, textile or furniture. Everyone is specialized in one of the crafts and if you come up with a new idea they are super excited to help you out. And you don't have to order a hundred items, like in Belgium. They find it perfectly acceptable to produce only a single copy, which is great if you are just starting out on a small budget.'
L \ The chair was bought in the Medina; the desk is a design by Laurence. The painting is her own work; on the floor is a traditional tribal rug. R \ On the floor a traditional Moroccan carpet. The daybed is by LRNCE. The woven upholstery was made by locals; three brothers whom Laurence often works with. The low table was made on site; drawings by Laurence. The hanging lamp is from Hicham and the pouffe was made from old pieces of cloth.
FRESH CREATIONS
Laurence published all her different samples on Instagram and offered them online to generate funding for the development of her next sample copy. Sales went so well she decided to attach a brandname to her designs. In a relatively short time LRNCE grew into a complete lifestyle brand producing colourful and Moroccan-inspired carpets, pots, paintings, bedding, mirrors and clothing. Anno 2019 LRNCE employs a small staff of five and sells through her website and showroom-at-home to major customers such as the luxurious department store Le Bon Marché in Paris. Business is going well and many entrepreneurs would do a lot to achieve similar successes, but Laurence is most pleased with the way in which she has accomplished her own success.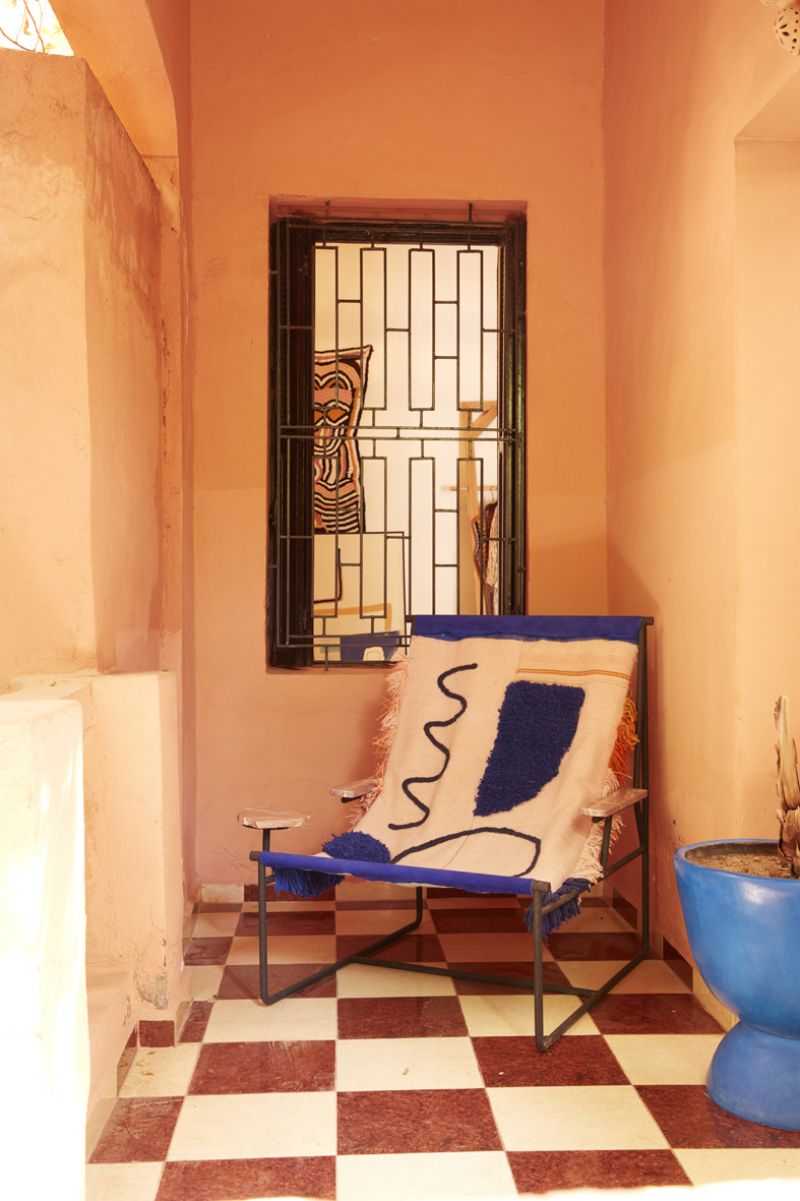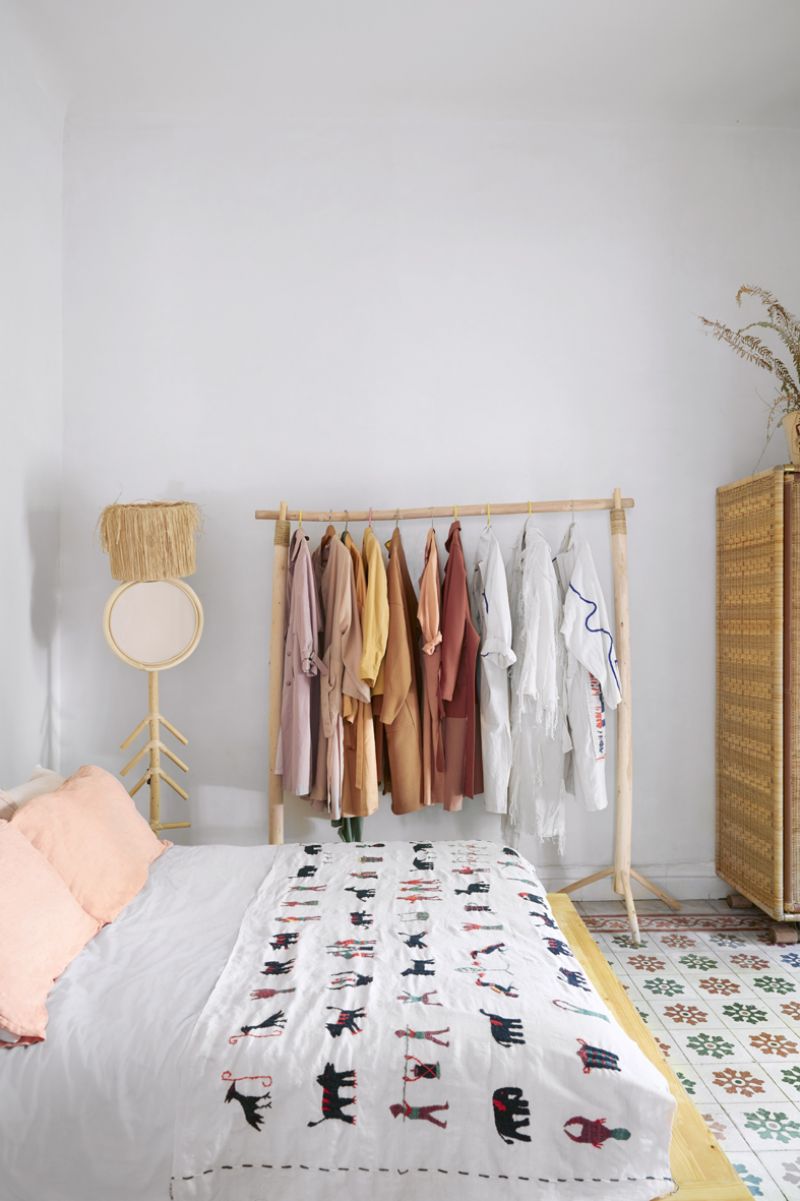 L/ The seating furniture is a design by Laurence. The weaving was done by a trainee on a second-hand weaving machine. Laurence: 'I wanted to make a chair from different materials: steel, marble, leather and woven fabric." The large blue pot on the right is her own design, made in tadelakt, a local plaster material. The intense colour is Blue Majorelle. It's typical for the architecture of the Yves Saint Laurent museum in the famous Jardin Majorelle created by artist Jacques Majorelle in 1924. R/ Laurence's bedroom. The handmade bedspread comes from Myanmar; the wooden statue on the left was made by Hicham, a local craftsman with whom Laurence regularly collaborates. The bedding is from Merci in Paris; the Italian wardrobe on the right was bought at a flea market. 
'The close collaboration with the local craftsmen is so satisfying. I would never just buy something ready-made, put it in a container and sell it in Europe. For me, having fun is creating something. unique together with the locals; something that is created by exchanging ideas and techniques.' Pottery is for example a craft she did not (yet) master. Laurence conceives the organic shapes and cooperates with Yusuf to make the vase. She then covers it in her typical graphic iconography. Her modest apartment in Guelitz, a suburb built during the French protectorate, is full of cheerful, fresh creations reminiscent of the work of Picasso and Miro, while at the same time showing something undeniably North African. Laurence: 'Nothing feels so pleasant as coming home from a trip and sit amongst my things. I can enjoy that intensely.'
All carpets in the studio, ready to be shipped abroad. R/ A trainee working on a second-hand weaving machine in the studio of LRNCE.
This production was published in WOTH No15. This issue is still available in english via bol.com . Or get a subscription here!
Dutch versions of WOTH can be ordered in our shop and an NL subscription is available here.