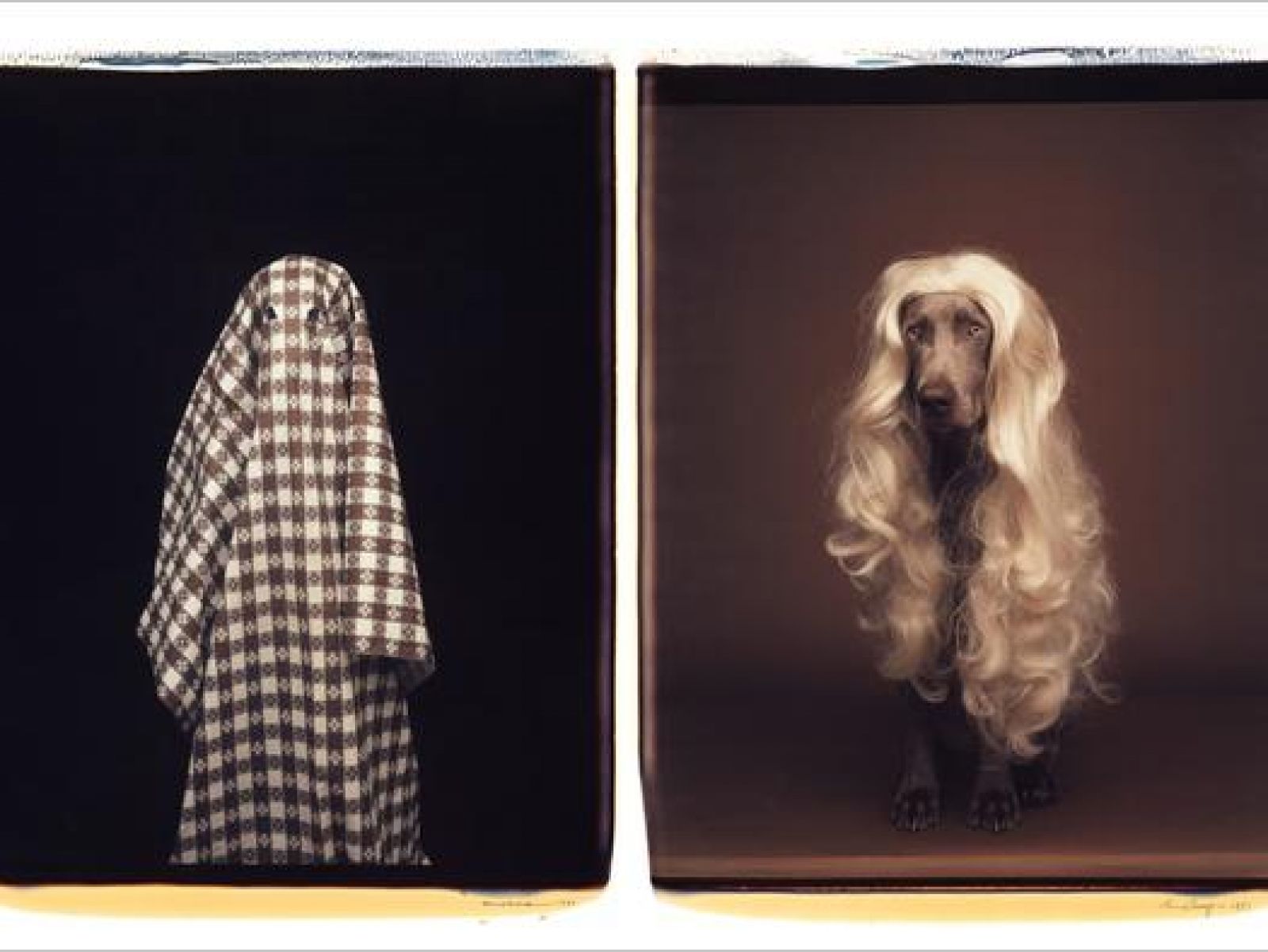 William Wegman Polaroids at Sperone Westwater, New York
Artist William Wegman is probably most known for his photographic work featuring  his Weimaraner dogs. Wegman has created film and video works for Saturday Night Live and Nickelodeon and his video segments for Sesame Street have appeared regularly since 1989.
For 30 years he has been taken polaroids pictures, these are on show at the Dressed and Undressed show at the Sperone Westwater Gallery in New York at the moment. 
(William Wegman Dressed and Undressed will be on exhibit at the Sperone Westwater Gallery through 28 October 2017)
New York, NY: Sperone Westwater is pleased to announce William Wegman Dressed and Undressed, a show of 20 x 24 Polaroids spanning over 30 years of work and exhibited for the first time in the artist's sixth solo exhibition at the gallery. Installed on two floors of the gallery, this exhibition focuses on Wegman's use of the 20 x 24 Polaroid camera to explore the nature of transformation and illusion, and with the help of his Weimaraner muses, to upend expectations of what it means to be human. A unique and instantaneous record of a moment, it is impossible to edit or change a Polaroid. What you see is what you get and this immediately appealed to Wegman, whose work in the 1970s often explored and exposed the photographic methods and conventions which normally remain hidden. Wegman first worked with the 20 x 24 Polaroid camera in 1979." (READ MORE...speronewestwater.com) 
(Sesame Street - Wegman's Dogs: T)
WOTH'S ON is the international Wonderful Things (to do) calendar of WOTH Magazine. In WOTH'S ON, the web version, we handpick suggestions on exhibitions, movies, fairs, openings etc. the choices are is based on running or short term exhibitions. This web-calendar is a supplement to our printed calendar which you will always find in the back of our printed magazine. Click HERE to view our complete WHOT's ON Wonderful Things Calendar If you have any suggestions or things you have seen you want to share with us, please don't hesitate to let us know! Thank You.
Save Save Save