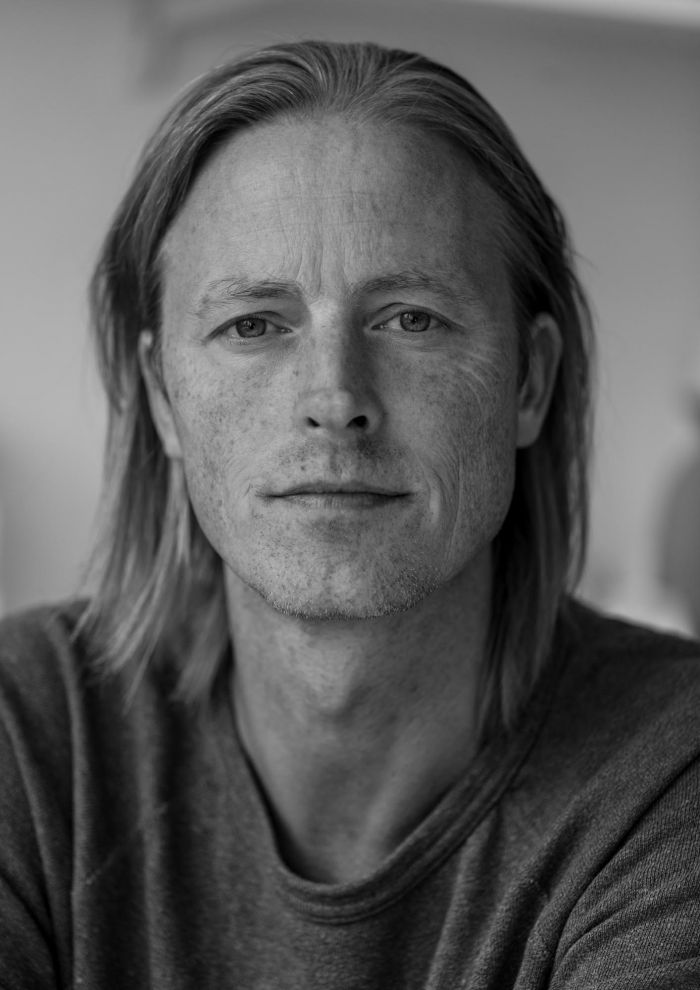 The studio of Aldo Bakker (1971), like his work, is a haven of tranquillity and beauty and a little unworldly as well. It's located in a former warehouse in Amsterdam, with high windows that don't directly overlook the streets.
Sunlight graces the elegant curves of objects that bear names like Pitcher, Pot, Pipe, Pivot, Pose and AlinetoB. Bakker's designs, mostly pourers but also fragile-looking sofas and stools, navigate between utensils and sculptures. He's currently working on the layout of 'Small Wonders', an exhibition of rare sixteenth-century miniature boxwood sculptures that will be held in the Rijksmuseum this summer. Head of the department of sculpture Frits Scholten, a collector of Aldo Bakker 's work, asked him to design the exhibition.
Expo at Looiersgracht 60
'Their independence is very important to me'

— Aldo Bakker
Sensuality
Aldo Bakker, son of Droog co-founder Gijs Bakker, makes autonomous, artisanal work in which various forms that fascinate him meet elementary entities that seem almost archetypical, but are actually incredibly complex. Even the carafe and glasses Bakker is now producing for Danish porcelain brand Lyngby, one of the very few affordable productions he's ever made, look as if they've been taken from a 1950s still life by painter Giorgio Morandi. Sensuous, abstract, deceptively simple. Seductive and distant at the same time. 'Platonic forms' is what writer Hans den Hartog Jager calls Bakker's designs: 'archetypes'. The publicist wrote a beautiful monography about Aldo Bakker on the occasion of the latter's recent retrospective, 'Pause', in the Belgian Grand-Hornu and Lausanne. 'The combination (of different forms) always has to result in an object that looks entirely organic and natural,' he writes, 'un-construed and eternal.' Aldo Bakker is less well-known in the Netherlands than abroad. He's held in high regard internationally: Wallpaper even called him one of the 25 most influential designers in the world. 'There's always been more interest in my work in other countries than in the Netherlands,' says Bakker. 'Professionally, France is the most important country to me. In France the silly, the erotic, the aesthetic and the sensuous are more likely to be embraced; they have their place in this culture that allows emotional, poetic and sensuous adventures. That's a bit alien to us.'
Urushi Tonus, 2014
Emotion
Bakker never graduated from any design academy. He tried three and then went on to become the apprentice of Utrecht designer Willem Noyons for eight years. There he made silver spoons and bowls, among other things, and 'had the peace and quiet he needed to think about his work', as he said in an interview with the New York Times. 'I believe that creations come from sensuous experiences: formulas produce little of interest. I accept commissions, but only when there's sufficient elbow room and leeway. It's an illusion to think you can know in advance what the end result will be like. If someone were to say: "I want this pot in this colour and this size, can you do that for me?" that just wouldn't work.' 'You need to become receptive to your sensuous experiences and that is harder than it seems. The reason why – the sake for which – often gets in the way. Just look at what's on offer in Milan, a lot of it's just more of the same. In many cases, objects are simply embellished in line with the times, but that's styling. Whereas the most exceptional aspect of this profession is that you have the opportunity to create something 'new' – in inverted commas, that is, since you always have an inspiration.' He himself taught ardently at the Design Academy Eindhoven for fifteen years. He led the Man & Well-Being department until he felt it was time to move on. Is training necessary for a designer? 'I learnt most things from books myself. Just by endlessly looking at pictures. Not reading, just looking. You learn a tremendous amount from that. That's visual knowledge that you can turn into your own form language. Next, you take your form language to businesses and artisans, who'll tell you what they think of it. Some are very accommodating and sympathetic, others say: "No, that's impossible." That scares you when you've only just started, but you know, the glassblower next door may be able to do it after all.'
AlinetoB, 2014
Eternity
Paint, glass, walnut, stainless steel, crystal: though materials are very important in Aldo Bakker's designs, they have to remain secondary to the design as a whole to avoid the dominance of a single interpretation. 'The search is primarily a philosophical one,' says Bakker. 'I try to make universal pieces, every time. I want the design to be not only for us, but in a sense I want it to remain part of the material it's made of, or part of the technique that's allowed me to make it. I don't want us to be able to appropriate it completely, because I think some degree of abstraction or friction is a good thing, to keep us sharp. Being able to completely understand a piece is never a good thing. There must be something left to discover.' In places, Bakker's work bears an almost touching resemblance to the work of his mother, jewellery maker Emmy van Leersum. She died when Aldo was thirteen. Van Leersum was also fascinated by philosophical principles like those of the endless movement and materialized infinity. Baker's silver Square Pourer and his porcelain pourer Pipe look like direct references to his mother's aluminium bracelets. Street noise finds its way into the sunlit studio. Bakker: 'I want to reach a point where my objects . . . look, hopefully they're understood and appreciated during my lifetime, but I find it even more important that when the world looks completely different hundreds of years from now, with an entirely new population, the people or whatever creatures they may be will also find my objects of interest. That autonomy, their independence, is terribly important to me.' 'Small Wonders' is on show from Friday 16 June to Sunday 17 September 2017 in the Philips Wing of the Rijksmuseum.
Square pourer, 2015
---
This interview was published in WOTH issue No5  (words by Annemiek Leclaire, portrait photo by Jan Willem Kaldenbach) still available in english via Bruil & van der Staaij. Or get a subscription here! Dutch versions of WOTH you can order in our shop and an NL subscription is available here.