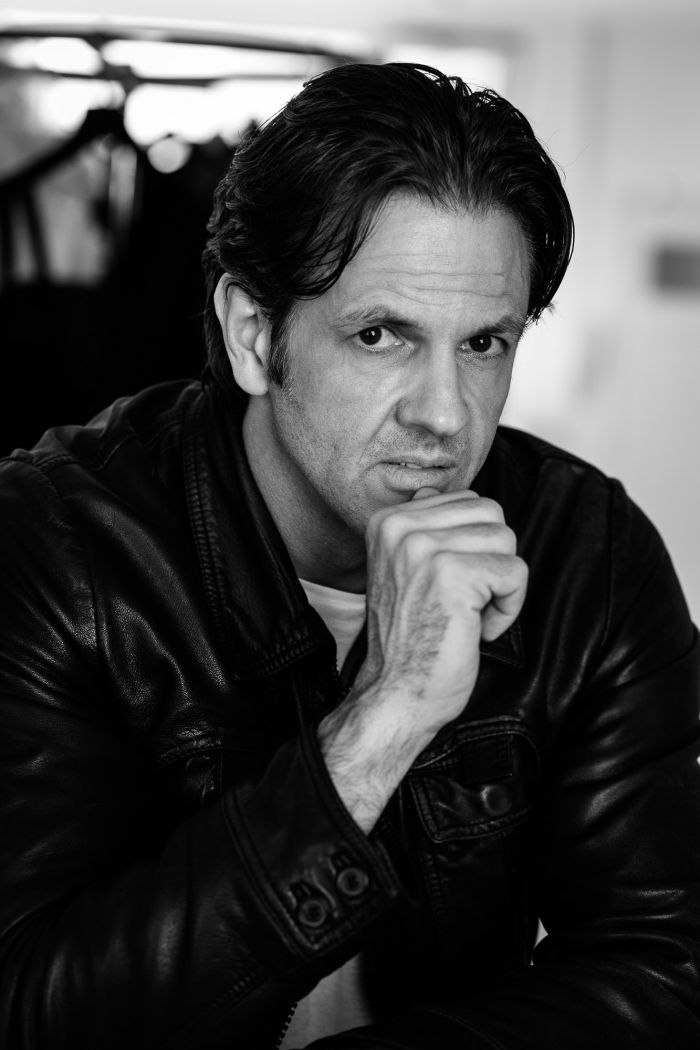 'So boring, today's perfection'
By chance?
After first earning his spurs at Bill Blass, Guy Laroche, Céline, Escada and Wolford, fashion designer Ronald van der Kemp decided to create his own response to the polished world of fashion. A response in which nuances and chance have free reign: RVDK demi-Couture In a stately canal-side house, a red carpet leads upstairs. Once there, all the pomp and circumstance end abruptly. A vacuum cleaner's roar and studded rubber flooring prelude a light work space with sewing machines, work benches, walls covered with sketches and overflowing clothing racks. The transition from classical grandeur to busy studio is almost symbolic of Ronald van der Kemp's story. He gave up his comfortable position as a Creative Consultant at Wolford to start a risky venture in, of all places, a country in which stars go to premieres on bicycles. This big transition also implied replacing the rat race of the international world of fashion with a place on the sidelines, a place where he can live, exercise and work within walking distance, and set his own pace.
Ballet and Bieber
Ronald van der Kemp's openness and honesty make it impossible to label him. In a single sentence, he talks about how he used to want to become a ballet dancer and made it into the Scapino Dance Academy – 'I don't think I would have become a star. Still, my love for ballet and opera remain' – and downplays his words by admitting that he also likes Justin Bieber. He says he created his label RVDK without any preconceived plan and that he takes things as they come. 'Of course I'm open to collaborations, but I don't want to rush things.' But when you're about to call him Zen, he says: 'Of course not. True, when you are fearlessly receptive, you tend to run into the right people and materials. But there's a reason why I exercise like crazy. It's my way to slow down my mind for a while. That's why I start my day in the gym. I'm still radiating heat from this morning's session.' The fact that the designer, wearing a white T-shirt and cargo pants, is wiping the sweat off his muscular arms probably has more to do with the temperatures at the time we meet. It's sweltering hot on the canal. But Ronald van der Kemp remains calm, thoughtfully choosing his words and, if necessary, instantly adjusting the picture he's just painted of himself.
from Wardrobe Three - photo by Marijke Aerden via RVDK.
Paris Couture
Those who have followed his success story know that the international fashion world will line up for his unique pieces from the moment he launched his demi-couture collection during Paris Couture in the winter of 2015. In early July he presented his fourth wardrobe and once again, all of his unique pieces are loaned and once again the most influential magazines want to feature his work and stars want to be photographed in an RVDK. 'Of course it's good for your reputation when Instagram queens like Selena Gomez, Rihanna and Lady Gaga have their picture taken in your clothes, Marc Jacobs posts enthusiastic tweets about you, Emanuelle Alt and Carine Roitfeld borrow your clothes for shoots and even your personal favourites – like Kate Moss – think a lot of your work. But I don't impose myself on anyone and that's precisely why I now attract people who want inspired clothes, appreciate the craftsmanship, understand my aesthetic and ethics.' A story set against the stampede of the wasteful fashion world. 'Ever since fashion labels have six selling seasons per year, the system runs on concept-based marketing strategies. As a consequence, designing is now no more than a fill-in exercise. Everything has to fit within a pre-arranged one-dimensional plan. After 25 years of serving the system, I'd had it. I just couldn't take the way every shred of individuality was removed from my design anymore, the predictable and slick looks of the influential bloggers and stars, not to mention the wastefulness. What isn't sold is immediately considered garbage. Count me out!'
'I just couldn't take the way every shred of individuality was removed anymore' 
from Wardrobe Three - photo by Marijke Aerden via RVDK.
Naughty
Lost in thought, his eyes wander over the clipping-covered walls. Rudolf Nureyev is on them, cocooned into a Persian dressing gown, almost invisible in the plethora of patterns in his lavish Paris apartment. The lush picture hangs next to one of a young Kate Moss, theatrically made-up models from the 1980s and a smiling Yves Saint Laurent flanked by an even wider grinning Loulou de la Falaise. 'So boring, today's perfection. As if stars are trying to look like photo-shopped versions of themselves. It's such a bland look; I'll take a woman like this LouLou or a Paloma Picasso any day. No classic beauties, but they amply compensated for that with elegance and mystery. And they were naughty; Paloma had this furtive look that suggested she surreptitiously wore absolutely nothing beneath those fancy dresses of hers.' It's as if he's just described his four collections. It's not only the silhouettes that are reminiscent of the 1980s Yves Saint Laurent; it's the details of his demi-couture and the naughty overtones as well. They are no more than references, however. His RVDK pieces tell yet another story: the biography of the material. His jackets, dresses and blouses are rich collages of stylish vintage scarves, fur coats, blouses and fabrics from the archives of Frans Molenaar. 'For my first wardrobes, I cut up my personal collection of vintage fabrics, leathers and furs. There's nothing left of it now. I happened to come across a beautiful hand-woven denim from Mali in New York recently. I tracked down the women who made it and we now work together.' He points at a cloth sample on his pin board, stuck between two dark strips of denim. 'That's how it goes since I started trusting my instincts. Because shortly afterwards, I stumbled across those dark denim samples from India quite by chance as well.'
from Wardrobe Five - photo by Marijke Aerden via RVDK.
---
This interview was published in WOTH issue No1  (words by Roos Stalpers, portrait photo by Jan Willem Kaldenbach/sept 2016) still available in english via Bruil & van der Staaij. Or get a subscription here! Dutch versions of WOTH you can order in our shop and an NL subscription is available here. Save Save Save Save Save Save Save Save Save Save Save Save Save