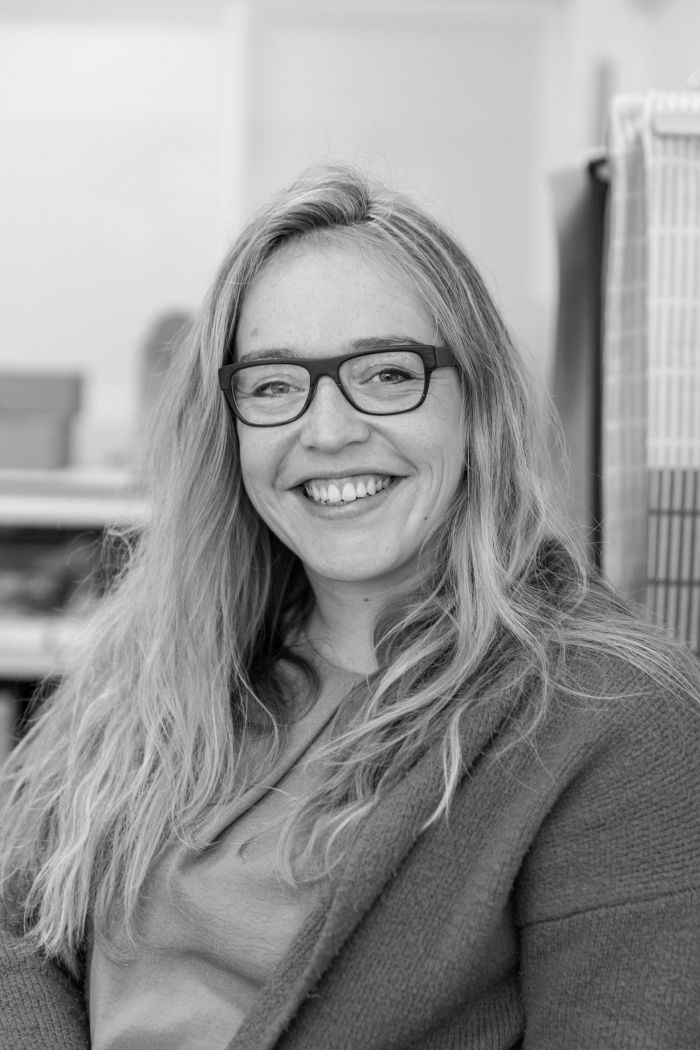 Sanne Schuurman of Envisions
Her place of work is 'a bit neat', Sanne admits with a disarming smile. It's true, especially compared with the dark, dingy studios on the other side of the road. But some degree of tidiness does go well with the slightly abstract look of her lamps and studies in textile, leather and foam.
Sanne Schuurman graduated from the Design Academy in 2014 and moved into a studio on the north side of Section C's Building 8 as a young professional a few months later.
Besides a sense of colour it is careful detailing such as, for instance, blue link rings in pink leather or around foam that makes the work visually attractive.
Now, after a couple of years in the field, she considers her position as a designer as one between creator and inventor. 'I'm working on material studies, looking for new combinations and applications that can take shape in concrete products. My final exam focused on the play of shadow and light. The question of how you can capture that play in a design became the theme of a series of wall and table lamps.' Rather than concrete end products, they were showcases intended to raise the attention of customers, clients and producers and to kick-start product development.
Dutch collective Envisions in collaboration with Finsa. On show at the DDW 2017 in Eindhoven.
Sanne Schuurman (togeher with, among others, Iwan Pol and Simone Post) founded Envisions in the same vein. This collective first introduced itself at the Salone del Mobile (2016) in Milan and its work was part of the exhibition 'RBG Fun Fair' (2016) at the Van Abbe Museum. This month they will contribute to the Dutch Design Week in Eindhoven. Born from the idea that experimentation is the key to innovation, the Dutch collective approached Finsa, the Spanish wood manufacturer. At the VDMA building they will present an experimental collaboration between designer and industry where the emphasis is not on the finished product but on the possibilities uncovered along the way.
Illustration by Elvis Wesley for Envisions x Finsa collaboration at the DDW.
More information on the Dutch Design Week event click here. envisions.nl
---
This item was published in WOTH issue No2  (words by Toon Lauwen, portrait by Jan Willem Kaldenbach/March 2016) still available in english via Bruil & van der Staaij. Or get a subscription here! Dutch versions of WOTH you can order in our shop and an NL subscription is available here.