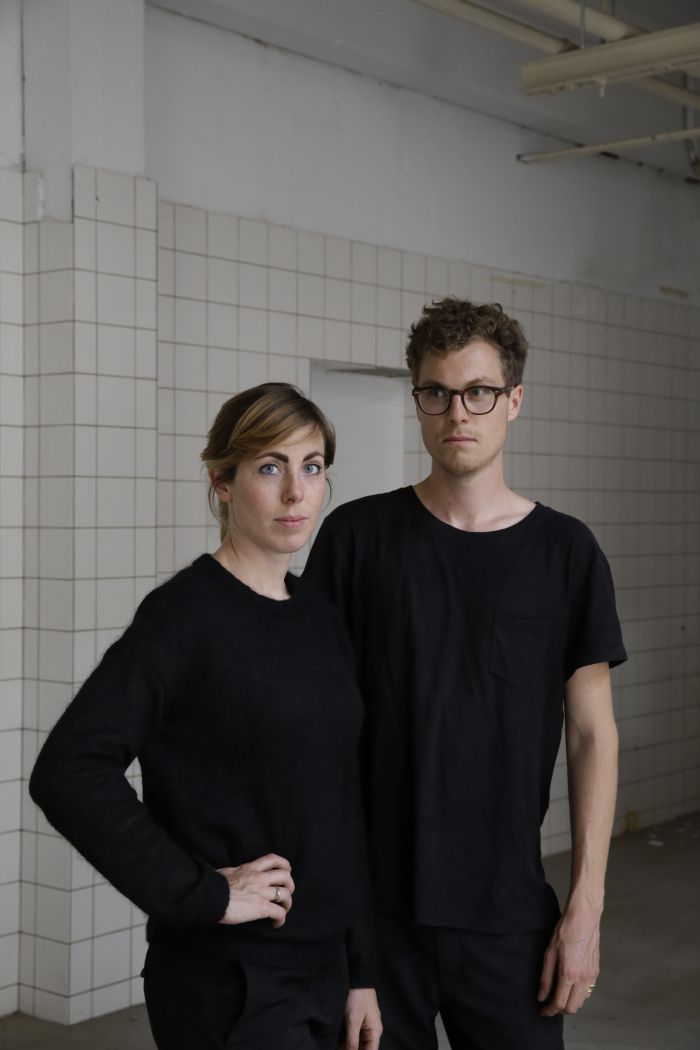 Bruce the dog comes running when the blue door marked 'OS∆OOS' opens. Behind that door at Strijp-T in Eindhoven lie both Sophie Mensen and Oskar Peet's OS∆OOS studio and a workshop they share with designer Daphna Laurens and Studio Mieke Meijer.
This is where it all adds up: each designer bought an expensive machine and together they have everything they need. Bruce is a ['pretext dog'/'excuushond']. Before they knew it, Oskar and Sophie spent hours on end in either the studio or the workshop – and that's hard on someone (Oskar) from the Canadian countryside. These days, they take breaks to go out and walk the dog. A perfect solution: besides getting a breath of fresh air this also gives them time to discuss ideas together.
Atelier OS∆OOS
Ahead of their time
Oskar and Sophie's portfolio is intriguing, intelligent, surprising and incomparable. 'We don't look at others, we don't go for the latest trends', says Sophie. In fact, the severe and bright graphic designs that almost always include movement or transformation are way ahead of their time. It often takes a year or two before the products catch on and start to sell. What keeps OS∆OOS together is shared ideals and ideas about design and about the process. 'Inspiration can come from anywhere, but the idiosyncratic projects never come out of the blue,' Oskar tells us. 'There's always a reason, like a commission, a theme, a deadline, and there's also always a reason for the objects to exist.' Any layered concept is preceded by countless sketches and texts. The designers polish them until they feel that the design communicates on multiple levels and that they have examined and substantiated every possible reason for the existence of the product. This results in the selection of a material. The designer duo loves sheets of glass, metal and brass. 'Even though I'm from Canada, we hardly ever tend to use wood,' says Oskar. Their efforts result in products that are slow to reveal their secrets, as if they're waiting for a user willing to take the time to discover them. Only those users are allowed to play with them and alter their appearance.
Atelier OS∆OOS
Balance
OS∆OOS is better known abroad than in the Netherlands, they say. They know the luxury of being asked for solo exhibitions by, for example, Gallery Roehrs & Boetsch in Zurich, Rosanna Orlandi in Milan and Chamber in New York. Their work is found at fairs and design weeks in Cologne, New York, Beirut and Dubai. It's not that they're not visible in the Netherlands – an exhibition recently opened at the Van Abbe Museum and they regularly contribute to the Dutch Design Week – people simply don't seem to know who's behind the label. Or it's because their designs are both design objects and autonomous objects. Even though making art isn't their premise. 'We like to find out how far we can upset the balance between abstract and functional design,' they say. Good examples of this are the layered monumental objects for the abovementioned Swiss gallery, which interact with the user. Or take the rather outspoken armchair that, with its specific, coloured graphic form that, like a monumental pile of giant blocks, looks like something resurrected from the Memphis period. The first concrete chair with a heavy back is stable, despite the fact that it weighs 450 kg.
Voluptuous armchair Keystone consists of a monumental pile of geometric, Memphis-like giant blocks. OS∆OOS produced a concrete version, a ceramic version and this latest version is upholstered using fabric by Raf Simons/Kvadrat. This Keystone is made in Denmark by Please Wait to Be Seated. The light source of this intriguing lamp is always on, just like the sun. Syzygy also comprises three filters and films that manipulate the light. By rotating one of the discs until it is directly behind the other, the light can be blocked entirely.
Light
Oskar studied engineering before he left Canada and entered the Design Academy Eindhoven at the same time Sophie did. They met each other at a party during the third year and became a couple. They helped each other with their exams in 2009. 'That went really well,' says Oskar. He was a trainee at Scholten & Baijings, worked there for five years and could've stayed there. But he wanted to start his own business. Sophie was a trainee at Pieke Bergmans and later began her own studio. The two studios merged to form OS∆OOS in 2011.
They started out making lamps that resulted from a fascination with the power of light. They translated the magic of the sun into the intriguing and aesthetic Syzygy – an astrological name for the straight line created by three composite celestial bodies. 'We got the idea after reading an article about what would happen if the sun went into hibernation and the temperature on earth dropped – we're so used to thinking that the sun is always there,' Sophie says. 'The lamp consists of three filters with film between them that manipulate the light. The light source is always on, after all, you can't turn the sun off, either,' she says. 'But you can block the light by rotating two of the three discs by hand, placing one directly behind the other.'
The Mono-Lights in the studio look like spider monkeys; they can be applied in countless ways and combine tubes (which look like traditional fluorescent tubes but in fact contain LED lights) with rubber-like, silicone intermezzos. Mono-Light was nominated for a Design of the Year award by the Design Museum in London in 2016.
The name Primary Fluorescents – Cast Edition combines the fluorescent nature of gases that create light with 'primary' forms like the triangle, square and circle. Manufacturing this layered, aluminium and neon lamp involved the use of polystyrene foam moulds to replicate the look of marble or concrete in aluminium. The designers play a game of lightness and heaviness, of breakability and robustness.
OS∆OOS is doing well. Recently, the Vitra Design Museum acquired their Concrete Colouring Table, which balances firmly on a single concrete leg. The small table is being added to the VDM's permanent collection. Oskar and Sophie think that's a great honour. Their very first Italian producer is manufacturing a production model of a standing lamp that's also on show at the Salone del Mobile in Milan. And a young and trendy business in Eindhoven asked them to design their shop interior. 'A first interior design commission and a good addition to our portfolio,' they realize.
Three room dividers play a game of perception and perspective, both among themselves and with their users. Reflection is a brass sheet bent at 90 degrees; Color-Bleeding comprises an anodised aluminium sheet, bright red and banana yellow pigment and a leg; and Distortion (photograph) is made of three polished steel surfaces and black pigment.
Concepts are often preceded by dozens of pages of stories and sketches and OS∆OOS also make scale models and 3D images on the computer.
---
This interview was published in WOTH issue No4  (words by Viveka van Vliet, photos by Inga Powilleit, production by Tatjana Quax/july 2016) still available in english via Bruil & van der Staaij. Or get a subscription here! Dutch versions of WOTH you can order in our shop and an NL subscription is available here.