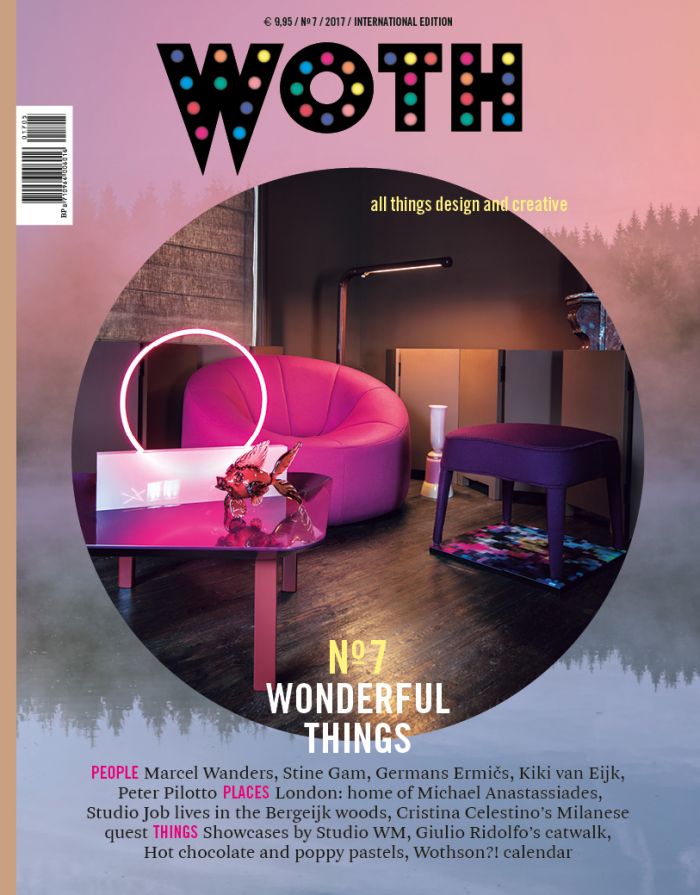 Colour Couture on the cover of WOTH 7
magenta and brown
The warm image on the cover of the 7th issue of WOTH magazine is part of the WOTH 7 shopping edititoral Colour Couture which we created in the house of Heneka & Goldschmidt, agent for Scarlet Splendour and BD Barcelona Design, and other brands, in The Netherlands. The full, brown backdrop this house offered was the starting point for showing a range of colorful (and wonderful) interior designs.
Colour Couture
The Magenta cover features the Pumpkin easy chair by Pierre Paulin (Ligne Roset), the Voie Lamp by Sabine Marcelis, the Fergana sidetable by Patricia Urquiola for Moroso, Antonio Citterio's purple velvet stool Febo for Maxalto (via Pot, Axel), placed on a colour-swatch of Cristian Zuzunaga's Dream cabinet (BD Barcelona), Lilac vase by vazenvanjanssen, plaid from Zara Home and in front an Artifoc vintage fish in art-glass.
The cover image is photographed by Marleen Sleeuwits. She is a Dutch photographer, known for her photo works of constructed spaces that are recognizable by their time and placelessness. Through all the physical reconstructions and alterations of the skin of the rooms she leads the spectator to a more spiritual or psychic perception of space.
View the WOTH No7 sneak-preview
________________________________________________________________________
With WOTH Iris Heneka and Marleen Sleeuwits