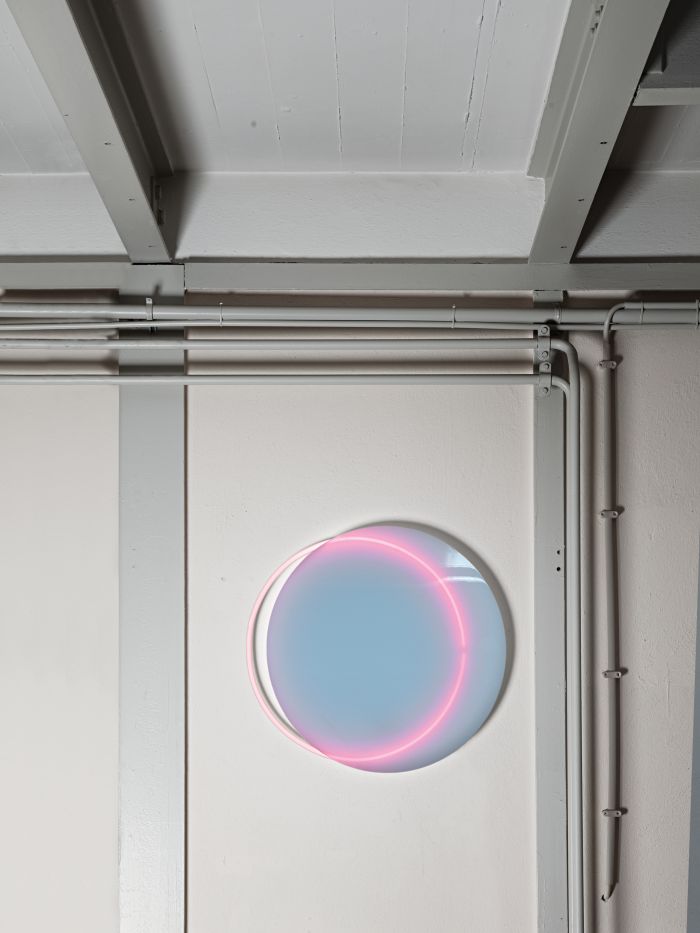 Portfolio Sabine Marcelis 'Magical light'
Sabine Marcelis ' work revolves around light. It's not only about the way it illuminates, caresses and shines, but also about the way it takes over materials that in turn dominate spaces.
Voie Lights 'Voie' is French for 'track'. In the case of Voie Light it refers to the track of the neon tube and the trajectory of its light. Minimalistic forms are brought to life by contrasting levels of brightness: harshly direct, and softly glowing.
Voie Lights - photo by Lee Weis Wee
Turret
For Room on the Roof - an art project initiated by De Beijenkorf in Amsterdam, Sabine Marcelis lodged for one week in a small towerroom on top of the luxury departement store. The result was presented in the display windows.
Room on the Roof - photo by Ewout Huibers
Clock Light Mirror
Three Dutch design studios reinterpreted three everyday household products. Marcelis created this installation in collaboration with Commonplace Studio and Teresa van Dongen. The clock, the lamp and the mirror are reduced to their essences: time, light and reflection.
Clock Light Mirror - photo by Jan-Willem Kaldenbach
Hue Collection
To create these unevenly shaped mirrors, Sabine Marcelis and Brit van Nerven superimposed layers of coloured glass. As a result the colours gradually run into each other. The effect is also influenced by the direction of view. Though the object stands still, it certainly isn't static.
Hue Collection - photo by Lee Weis Wee
Repossi Paris
For the Paris flagship store of jewellery house Repossi, Sabine Marcelis designed an interior using laminated glass, aluminium sheets and mirrors. Warm tones dominate the basement. The ground floor is clean and bright. Upstairs, semi-transparent glass creates a cool atmosphere.
Repossi Paris - photo by Delfino Sisto Legnani + Marco Cappelletti
Candy Cubes
Magnified chocolates by a perhaps all too experimental chocolatier. They look both soft and very solid, their polished surfaces glisten mysteriously and seductively. Fashion houses such as Céline and Isabel Marant use the sweets as pedestals for their bags and shoes.
Candy Cubes - photo by Jeroen Verrecht
Seeing Glass
In the factory of Van Dijk Glas, Marcelis and Brit van Nerven were allowed to experiment endlessly. They combined different materials, colours and layers to generate various optical effects. This line later evolved into the Hue Collection.
Seeing Glass - photo by Lee Weis Wee
Dawn Light Installation
Light, colour, transparency and saturation come together in this installation created for Museum Boijmans Van Beuningen. Sabine Marcelis captured the colours that ripple across the world at sunrise: from dark purple to the rosy-fingered dawn.

 Nature is Sabine Marcelis 's great inspiration. Especially nature's most elusive yet most important phenomenon: light. The designer is trying to get a grip on the strength that shows us the world by studying glass, neon and resin. Her Rotterdam studio is both laboratory and workshop. Her methods combine the techniques she learned as she trained as an industrial designer in New Zealand with the conceptual approach of the Design Academy Eindhoven she graduated from in 2011. She herself describes her practice as 'looking for magical moments in materiality and manufacturing processes'.
Dawn Light - photo by Lee Weis Wee
Magic, unfortunately, combines poorly with logistic deadlines and tight budgets. That's why Sabine Marcelis prefers to work with art galleries that present her designs as limited editions of autonomous pieces. 'Functionally decorative' is a fitting description for work that can be both light fixture and sculpture, side table and conversation piece, or mirror and physical evidence. These days major clients also know where she's at, from Stella McCartney to Eastpak, which asked her to design a backpack made of reflective material. They must have noticed Marcelis 's work at one of the dozens of international exhibitions to which she's always being invited. Or in Milan.
KaDewe entrance together with OMA architects
During the 2017 edition of the Salone del Mobile, Sabine Marcelis was once again amply present. Her work was displayed in no less than seven locations, often in collaborations. In boutique hotel Room Mate Giulia, she'd even remodelled the entire lobby, transforming the somewhat loud space into a tranquil oasis. Diffusely lit and minimalistically chic, everything was designed to channel and focus visitors' attention: improved observation brings forth clearer thoughts.
Sabine Marcelis - photo by Ewout Huibers
---
This interview was published in WOTH issue No5. This issue are still available in english via Bruil & van der Staaij. Or get a subscription here! Dutch versions of WOTH you can order in our shop and an NL subscription is available here.