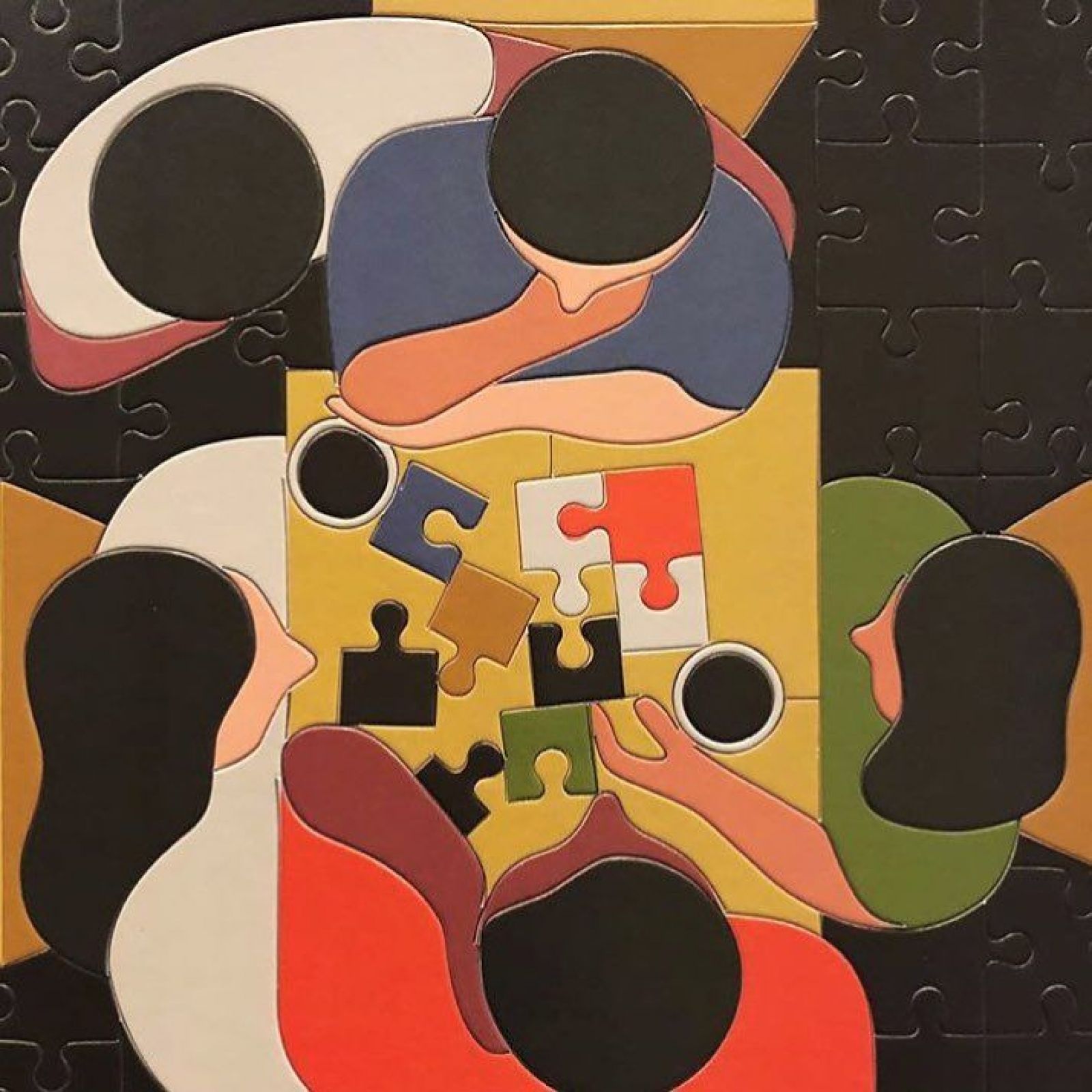 This wonderful puzzle, named We Are Puzzle, is designed in collaboration by Geoff McFetridge and Partners & Spade. Produced as a Holiday gift for Partners & Spade, so, unfortunately; you have to be one of their cliënts to get hold of this designer toy.
Partners & Spade is a New York based studio of designers, writers, architects, and marketers, they focus on generating, developing, and communicating new ideas for brands, redefine existing ones and they also provide the marketing.

Cliënts

We expect that the staff at the Coca-Cola Company, Sonos, Nordstrom, Whole Foods Market, J.Crew and many more companies, are very pleased with this gift, and take turns playing with this gem of a puzzle at the office table, during lunch-break.
Geoff McFetridge
Geoff McFetridge is a multidisciplinary designer based in Los Angeles, California. His career started in the 1990s as art-director for the Beastie Boys (You gotta fight for your right To partyyy). Up till now he is a Cooper-Hewitt award winner and has many cliënts amongst the larger companies, like for example Target. (see illustration at the bottom) Working for the movies with director Spike Jonze is an example of his less commercial work, and putting his personal work up for exhibitions is another example ofcourse.
Test For Positive Thinking by Geoff McFetridge. Rental Gallery, East Hampton, New York, 2015. (image via geoffmcfetridge.tumblr.com Visit this site to see more personal work by McFetridge)


Geoff McFetridge for Target (image via championdontstop.com Visit this site to see more commercial work by McFetridge)
(top image: Detail of puzzle We Are A Puzzle by and via Geoff McFetridge @mcfetridge on Instagram)